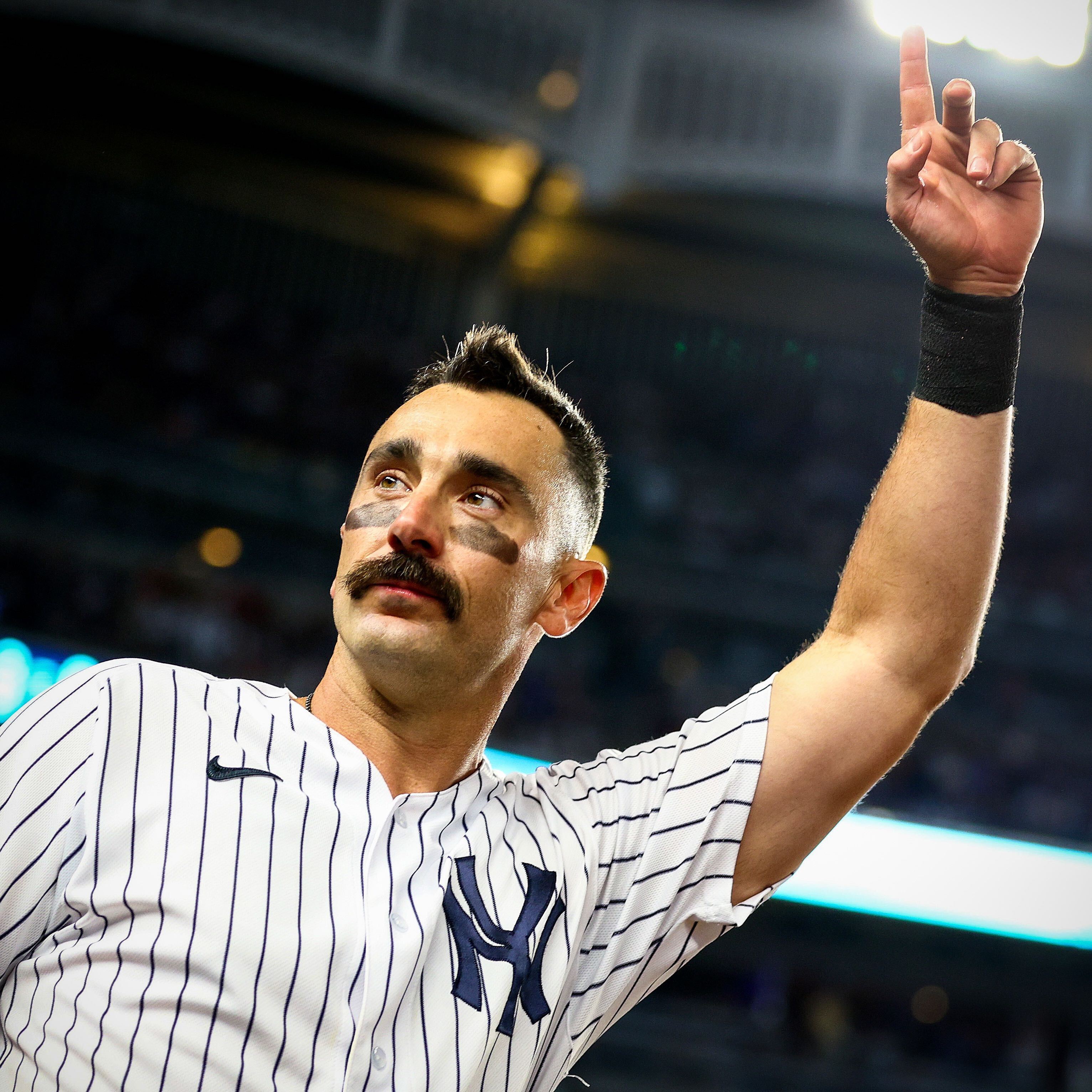 If you aren't an avid Yankees or baseball fan, you might not recognize Matt Carpenter's name.
But you should.
Carpenter's journey this season is the story that America needs as we collectively navigate a world filled with acrimony and discord.
The three-time All-Star went from riding the bench in the minors earlier this year to one of the biggest phenoms in Major League Baseball.
And Carpenter is no spring chicken. He's a 36-year-old veteran with more than a decade of playing time in the majors.
Back in May, the Yankees placed three players on the COVID list, which left holes on the roster that needed to be filled. The team took a chance and signed Carpenter after he was released by the Round Rock Express (Texas Rangers' minor league AAA-affiliate) in hopes he'd fill one of those holes.
That hole has not only been closed, but now overflows with sheer awesomeness.
When Carpenter, with his old school Mattingly-esque mustache, stepped up to home plate in Tampa during his first at-bat as a Yankee on May 26, many skeptically asked, "Who is THIS guy?" Yankees fans can be harshly judgmental, and I plead the fifth about my opinion of the recycled veteran in that moment.
Well, his two at-bat appearances in that game, which yielded two runs scored in the Yankees 7-2 victory, combined with slugging his first home-run of the season the following night that helped the Yankees defeat the Rays 2-1, answered that question:
He is MATT CARPENTER, and he has been the living embodiment of baseball magic since. As he crushes his bat and sets new records, baseball fans across the nation stand with their mouths agape.
As of this post, he has had 75 at-bats in 30 games so far this season, with 27 hits, 13 home runs, and 31 runs batted in. Remember, he didn't play for almost two months, and those numbers are only since May 26!
Make that 31 games, 77 at-bats, and 32 RBIs-he added another as I am writing.
Those numbers don't lie. Carpenter is the real deal.
In last night's 14-1 trouncing of the Boston Red Sox at Yankee Stadium, Carpenter batted in 7 runs with TWO 3-run home runs, one in the first inning and the second in the fifth inning. Shortly after high-fiving his teammates in the dugout after home run number two, he answered the fans' cheering for a curtain call with waves of authentic emotion riding his face as seen in the above image.
"You never know when the last time you're going to put this uniform is or on what day that is and I felt like I might have had that a couple of times this year.," Carpenter told FOX Broadcasting's Ken Rosenthal after last night's game. "To be here, and to be playing for this team, in this city, for this franchise, I don't take it for granted. I come to the ballpark every day overwhelmed with joy and gratitude and, man, it's just been a lot of fun."
Last night wasn't Carpenter's first multi-hit home run game this season. During the Yankees' 18-4 victory over the Cubs at home on June 12, Carpenter also batted in 7 RBIs with two home runs. His performance in that game made him the first player in Yankees' history to hit six home runs in his first 10 games with the team.
I've always rooted for the underdog, but the humble Carpenter tops them all. He's tenacious, unassuming, and gives his all, no matter what. And the first words listed on his Twitter and Instagram bios of Christian, Husband, Father, all before NY Yankee, speak volumes about the type of person Carpenter is. 
What hits home (pun intended) for me is Carpenter's determination and authenticity. He's never sacrificed his values for his career nor forgotten his roots or taken anything for granted. He's nobly faced setbacks by bettering himself in whatever way necessary as he strove to bounce back. While many major leaguers his age call it quits after being demoted, he chose to stay in the game and reemerged bigger and better than ever, all the while exuding gratitude that his name is on the Yankees' roster. 
Today's young people desperately need an example like Carpenter, but you know what?
So do I.
Trade out the baseball for words, and I aim to emulate Carpenter as I face my own strikeouts while querying my manuscript as a 51-year-old aspiring novelist. Like Carpenter, I've celebrated many successes in my early life and career alongside unexpected setbacks, and writing is no exception. He may be 15 years younger than me, but Carpenter is living proof that I am not too old to pursue my dream of publishing a book, and eventually, transitioning to full-time writer. It will happen if I mirror his tenacity and drive, but if I've done my best and it doesn't happen? I'll follow Carpenter's lead and roll optimistically towards another opportunity that presents itself.
And, surprise! Carpenter is ALSO a writer! Read his farewell to St. Louis here, which he wrote for The Players' Tribute after electing free agency in November 2021. Who knew?!?!?
Last Sunday (July 10), while sitting in Fenway Park with my nephew and sister-in-law, Carpenter blasted a 2-run homer in the third inning which gave the Yankees a 6-2 lead. I jumped in joy and cheered as loud as I could despite the Sox sharks swirling around me as I relished experiencing one of his home runs firsthand. Unfortunately, the team absolutely imploded in the seventh inning, and Sox fans rejoiced in their 6-11 victory over the Yankees. 
Whatever the future holds for Carpenter, there's no doubt his accomplishments and his contributions have had an incredibly positive impact on his teammates and on his team's current 63-28 record, which is the best in the majors. 
Sometimes life imitates art, and what a storybook ending it will be if he and his teammates hold the World Series trophy high in the air come November. 
No matter the outcome, I'll remember this season as the one where Carpenter built his foundation to become an inspiration to me evermore.
Thank you, Matt Carpenter. Just….thank you.
Matt Carpenter's Stats and Notable Achievements
Born: November 26, 1985 in Galveston, Texas
Married to Mackenzie since 2011, father to daughter Kinley and son Kannon
Positions: outfield, third base, first base, second base, designated hitter
2009: Drafted by the St. Louis Cardinals in the 13th round of the MLB draft (399 pick)
June 4, 2011: MLB debut; started at third base for the Cardinals

2013, 2014, 2016: MLB National League All-Star Selection
2013: led MLB in runs (126), hits (199), and doubles (55); NL Silver Slugger; finished 4th in NL MVP award; played with Cardinals in postseason (NL Champs, World Series-lost to Boston)
2013, 2013, 2015: MLBPAA Cardinals Heart and Hustle Award
2014: led NL in plate appearances and base-on-balls
2015: Led NL in doubles, 8th in NL in home runs
2015, 2016, 2018 (twice): NL Player of the Week
May 7, 2016: First walk-off home run (6-4 win over Pittsburgh)
April 27, 2017: First grand-slam vs. the Toronto Blue Jays in the 11th inning of an 8-4 victory (walk-off grand slam)
July 2018: NL Player of the Month
2018: 3rd in NL in home runs

November 2021: Elected free agency and penned a farewell to St. Louis which was posted by The Players' Tribune
March 2022: Signed to minor league contract and invited to spring training with Texas Rangers; played 21 games with their AAA-affiliate Round Rock Express
May 19, 2022: Released by Round Rock Express
May 26, 2022: signed by New York Yankees. The rest is history!
Sources: New York Yankees, ESPN, MLB, Sports Illustrated, FOX Sports, CBS Sports, NJ.com, The Players' Tribune
Thank you for joining me on my journey. I'm glad you're here.
With love and gratitude,
Jill
"Carpenter Builds Story After Story" was posted on jillocone.com on July 17, 2022. Views and opinions expressed in this post are solely those of the writer, who was not endorsed or compensated in any manner by any entity; views do not represent any of my employers. Copyright 2022, Jill Ocone. All rights reserved. Contact jillocone@gmail.com with reposting, licensing, and publishing inquiries.