One name: Anthony Volpe.
You may not know him yet, but you will.
The 21-year-old New Jersey native's persistence and heart were second-to-none during spring training, and the big question was whether he'd make the roster or be sent back down to the minors.
Yankees fans waited for the announcement with bated breath, and on Sunday, we finally learned his fate:
Anthony Volpe was named the starting shortstop for the New York Yankees.
He made the freaking roster!
Volpe will be the youngest player to start for the Bronx Bombers on opening day since Derek Jeter. He beat out veterans Isiah Kiner–Falefa and Oswaldo Peraza for the position, his powerful talent and immense potential giving him the edge.
He's humble and authentic, his stats stellar, his heart and enthusiasm contagious. and, man, is he a fun player to watch!
Many of my students who are fellow Yankees fans and I have watched Volpe rise through the ranks. We admire his passion for baseball, which is like that of an old-fashioned player, and that he plays for the game, not for fame or glory.
His professional approach to his baseball career and his dedication to improving his abilities is something I admire. He is already a positive role model to the younger generation, and there's no telling how many more people he will inspire both on and off the diamond.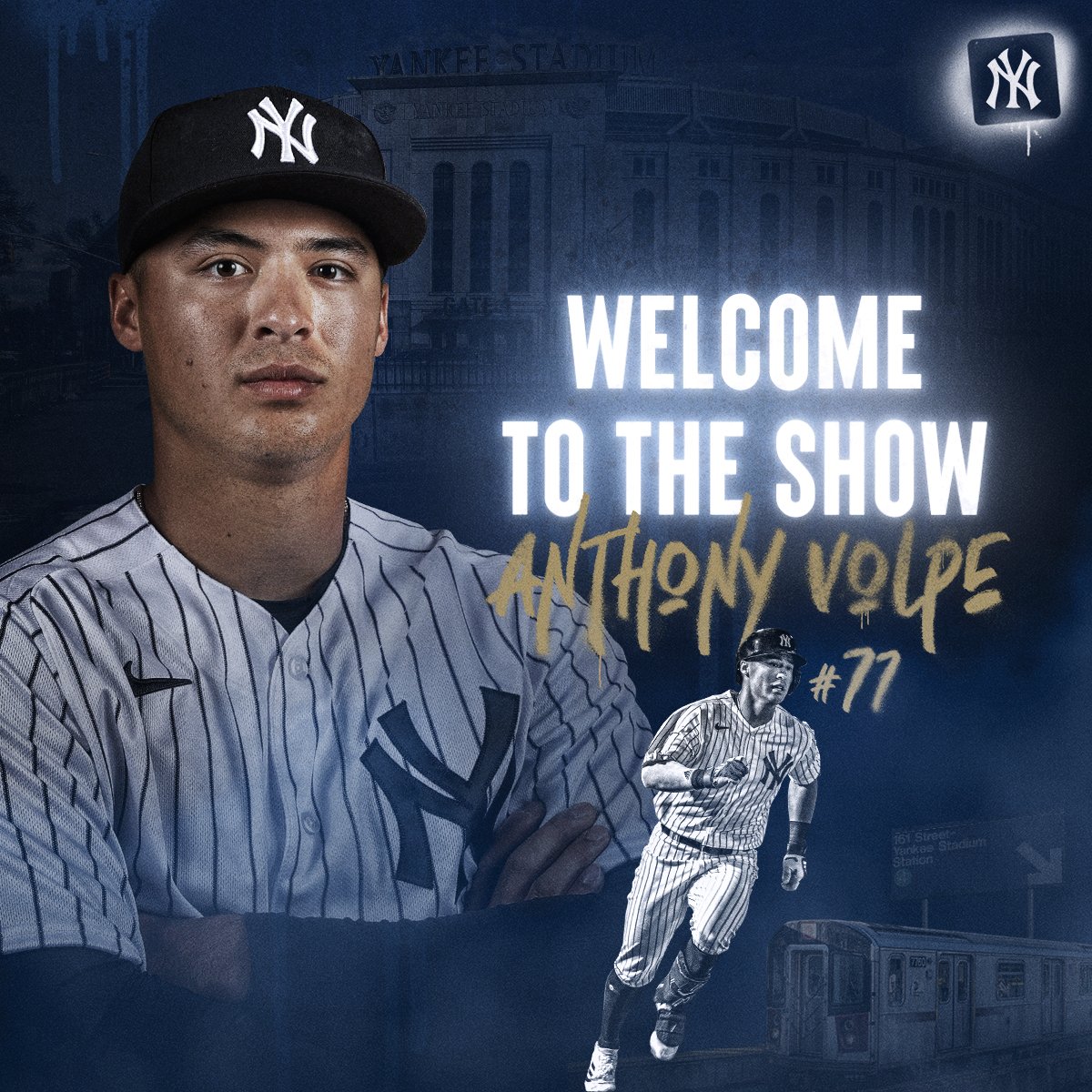 Volpe was born in Watchung, New Jersey on April 28, 2001. He attended Delbarton School in Morristown (NJ) and Perfect Game named him the 2019 New Jersey HIgh School Player of the Year. While he committed to Vanderbilt University, The Yankees selected Volpe in the first round of the 2019 Major League Baseball draft (30th pick).
Since then, he has played for minor-league affiliates Pulaski Yankees, Tampa Tarpons, and Hudson Valley Renegades. In 2022, he moved up to the Double-A Eastern League Somerset Patriots, where he hit a walk-off home run in the bottom of the 10th inning giving the Patriots a 6-5 win against the visiting Hartford Yard Goats on June 26. Volpe represented the American League at the 2022 All-Star Futures Game in July. He batted .252 with 18 home runs and 60 RBIs in 109 games as a Patriot and was promoted to the Yankees' Triple-A affiliate, the Scranton/Wilkes-Barre RailRiders on September 2.
Earlier this week, the former non-roster spring training invitee and Number 1 prospect in the Yankees organization received the 2023 James P. Dawson Award, given annually to the most outstanding Yankees rookie in spring training, the first of many honors no doubt.
That's how he does it. All heart and hustle.
There's no doubt Anthony Volpe's name will become as recognizable as both Jeter's and Judge's. I cannot wait to watch him grow into his greatness and witness the birth of another legendary career this season as I wear #11 with pride.
Way to go, kid!
Thank you for joining me on my journey. I'm glad you are here.
With light and love,
Jill
"Volpe's Value" was posted on jillocone.com on March 29, 2023. Views and opinions expressed in this post are solely those of the writer, who was not endorsed or compensated in any manner by any entity; views do not represent any of my employers. Copyright 2023, Jill Ocone. All rights reserved. Contact jillocone@gmail.com with reposting, licensing, and publishing inquiries.